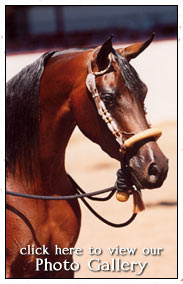 Catalyst Arabians is a small family-owned Arabian horse farm in Sunny Corralitos Valley, located on the Central Coast of California.
We are dedicated breeders of Spanish Related Arabian and Half-Arabian Horses, with an emphasis on breeding Arabians that are beautiful, have great minds, and usable, athletic bodies.
Our love of the Spanish Arabian Horse began in 1992 after acquiring the Lovely and Charismatic *Numaa daughter, Maarena B and her weanling *Vallehermoso filly, DA Vallenteena. We have gone on to breed and purchase several mares with Bloodlines to *Padre, Jaguay, *GG Samir, WN Ultimate Star, *Fairview Klassique, and *Sidi-Brahim, to name just a few. We have crossed our Spanish/Spanish Related Mares to Stallions such as Alada Baskin I, Its Sshow Time, Odyssey SC, Rohara Moon Storm and NV Elite, to produce Beautiful, Substantial, Intelligent, People Oriented Show Horses.
In 1994 we followed up our first Spanish acquisitions by purchasing the Pure Spanish weanling colt, Quest mf, bred by Lucy Whittier of Las Colinas. We began showing Quest as a Yearling, and his show ring debut was a success. In a Huge Class, Quest was named Scottsdale Top Ten Yearling Colt, at 9 months old. He was also a Top 10 Yearling Colt at several Regional Shows, that same year. He began his performance career as a 3-Year-old, and was a 1998 Region I Top 5 Arabian Western Pleasure JR Horse. Quest is still a National Winning Western Pleasure Horse, in AOTR and Open Competition and is now siring foals of his own. Sold in 1998
We are the breeders of the following Successful Show Horses:
The 1999 Gelding, Contradiction, was Top 10 at the 2006 Sport Horse National Championship in Arabian Sport Horse Geldings In-Hand; 2006 Pacific Slope Dresg/SH Offsite Championship Top 5 Arabian Sport Horse Geldings In-Hand AT 2 yr. & Over, and Top 5 IABS Arabian Sport Horse Under Saddle AT; 2005 Region III Sport Horse Offsite Championship Top 4 Arabian Sport Horse Under Saddle AT Champ; 2003 Region III Sport Horse Offsite Championship Reserve Champion Arabian Sport Horse Under Saddle JR Horse, along with many other Performance and Halter Accomplishments. Sold in 2002.
The 2000 mare, Lily Della Valle, Top 10 at the prestigious 2003 SoCal Purebred Arabian Western Pleasure Futurity, and has shown Western Pleasure Open and AAOTR. Violet was retained as a broodmare, her first foal born in 2005.
The 2001 Gelding, Its Ssummertime was a Top Ten Hunter Pleasure Horse at the 2007 Scottsdale Signature Stallion Performance Futurity, as a 3-Year Old.
All of our foals are Nor Cal, Breeders Sweepstakes and US National Futurities Nominated.
Other Successful Show Horses:
Kayla Lily, 2005 Canadian National Champion Top 10 Arabian Hunter Pl. JTR 14-17, Pacific Slope Championship Top 3 Arabian Hunter Pleasure Horse, and winner of many Class A Hunter Pleasure Championships. Sold in 2006
Uptown Snoot, Multiple Class A Championships in H/A Country English Pleasure. Sold in 2007
Against All Oddss, 1996 Pacific Slope Championship Top 5 Halter Gelding. Sold in 1998